ALIVE & KICKING APPALACHIAN CLOG DANCERS AND STRING BAND
Alive & Kicking are based in Exeter, Devon. The group was formed in 1989 and perform music and dance from the Appalachian Mountain region of the United States.
Based on the traditional steps of Appalachian clogging, Alive & Kicking have developed their own distinctive and exciting style of Appalachian clog dance, using dances choreographed by members of the team with the addition of some dances learned from FiddleKicks Cloggers from Philadelphia, USA. The group performs at folk festivals throughout the country, including regular appearances at Sidmouth and Wimborne festivals, ceilidhs and a variety of events and have also appeared on television.
In 2003 the group visited Philadelphia as guests of FiddleKicks who made a return visit to the UK in 2004.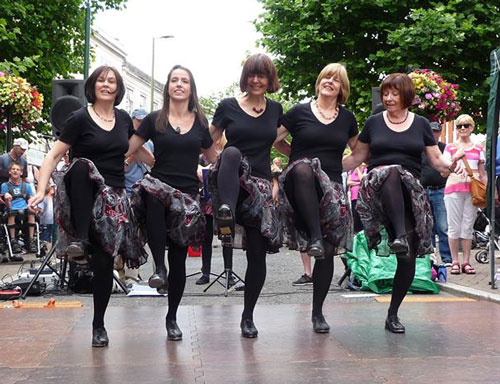 WHAT IS APPALACHIAN CLOG DANCING?
Appalachian clogging evolved from step dancing taken to the United States by English and Irish settlers, which became influenced by the music and rhythms of native American Indian and African dancers. Similarly, the Old Time style of music developed from the Celtic fiddle music of the settlers which combined with the guitar, mandolin and banjo to gain a distinctive flavour of its own.
From these influences, Alive & Kicking have evolved their own string band sound, with the dancers' tap shoes adding a pulsating percussive rhythm, culminating in an exuberant show.